Bible Study
Bible Study is offered at 9:45 a.m. on Sundays year-round and provides a consistent, structured, age appropriate education with a curriculum centered on Bible readings and application to life.
G-Force
G-force is offered on Sundays during the 11:00 a.m. worship service for children 4 years old through the 4th grade.
G-Force combines theme related Bible study, worship and personal application through the use of music, interactive games, small and large group activities.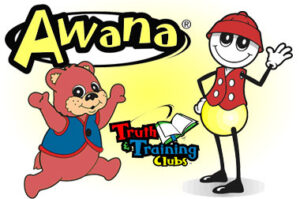 Awana Clubs
Awana is offered Wednesday evenings from 5:45-7:30 p.m. during the school year.
The program, from Awana, is an international, Bible-centered children's ministry for children preschool through 5th grade. The goal is to reach kids and their families with the gospel of Christ and train them to serve Him. The acronym Awana comes from the first letters of Approved Workmen Are Not Ashamed as taken from 2 Timothy 2:15.
Our Prayer
That all children throughout the world will come to know, love and serve the Lord Jesus Christ.
Our Vision
To be a strategic partner with churches and ministries in a global effort to ensure the opportunity for all children to be evangelized and discipled in Christ.
Our Mission
To work with our ministry partners in creating and disseminating integrated programs, tools and training that equip leaders to evangelize and disciple children for Christ.
Nursery
A staffed nursery is available for newborns to 3 years old.
Other Yearly Activities
Fall Fun Night (Alternative to Halloween) — October 31
Vacation Bible School